Sabinillas Manilva Awnings
Awning Installation in Sabinillas
If what you wish for is to have an excellent awning for your business or personal home, let me make you aware that you have found yourself exactly what you were looking for. With TecnoPVC you will be able to choose the type of awning that best suits your needs and requirements, at the best value on the market.
One must remember that awnings are very important accessories, regardless of whether it's for use in a home, business or penthouse, they provide a solid and persistent commodity that you can enjoy wherever they are. Not only are they a great aid for ourselves, but also a great commodity for our clients and friends. And if that's not enough, at TecnoPVC we consider every detail; as such, we have remote controls that will make deploying the awning an act of praise thanks to the technology we work with. Speaking of praise, with our awnings the aesthetics go from the background to the foreground, as we avidly seek to provide a unique and irreplicable experience under our awnings.
We believe that it would be a sin to not have TecnoPVC for the installation of your extendable awning in Manilva Sabinillas, as we have extensive experience in the awnings industry, and in addition to carrying out the whole process from start to finish, we can advise you and guide you so that you can have your dream awning as soon as you want it.
Do you wish to see how your awning is protecting you from sun exposure, while you enjoy a wonderful evening on the exterior of your home? If the response if yes, then get in contact with us without any type of commitment.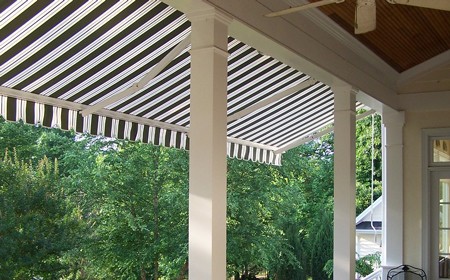 Maybe you're tired of going through the notorious manual process when extending and foldering the awning cover. For this reason, conscious of how comfortable and modern it would be to take it a step further, we offer you the possibility of avoiding the manual labour with our automatic awnings.
We have a great variety of automatic awnings and our professionals will assess which one would be the best fit to your home or business.
Awnings Company in Sabinillas and Manilva
We recommend you get in contact for more information without any commitment, as the only truth that we can tell you in this moment, is that in the hands of our company, results are guaranteed. Call us now, write to us through WhatsApp or visit our exhibition located 15km from Manilva/Sabinillas.
Evidently, with TecnoPVC, under no circumstances will we permit ourselves to neglect the demands and needs that our customers may have regarding purchase, installation and maintenance of their awning. For this reason, as in the aforementioned cases, we offer a wide variety of box awnings that are intended for areas such as balconies, penthouses or attics, where resistance to coastal winds is crucial. Moreover, the box awnings are enduringly firm when extended, ensuring that neither gusts of wind nor floods can affect your tranquillity and wellbeing.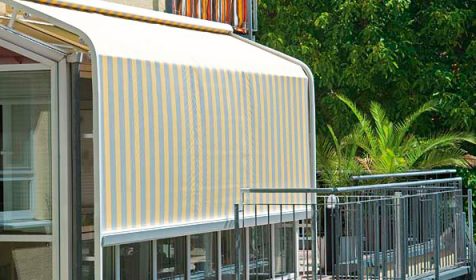 We have awnings with a folding arms system. TecnoPVC considers every relevant detail; if not, we would not be in the position that we find ourselves in, as leaders of our profession.
Speaking of our range of blind awnings, there is nothing else to do but applaud at the spectacle, as we include in our collection some blind awnings that are really simple to use and will facilitate getting that desired shade and wellbeing that is sought after.
Find out without obligation about our Awnings in Sabinillas Manilva
?Why choose us as an Awning Company in Sabinillas Manilva?
The quality of materials and personalised service has characterised us for over 20 years in the sector, as a company committed and able to meet all the expectations of our clientele. That is why we offer our services to everyone interested in the installation or repair of awnings in Sabinillas and Manilva.
Assembly and Installation Services
Wide Variety of Styles and Colors
Awnings with Motorization System