Glass Curtains Manilva-Sabinillas

Glass Curtains Company in Manilva – Sabinillas
At TechnoPVC we are highly skilled professionals in the installation of glass curtains and enclosures in Manilva y Sabinillas for terraces and balconies. With our glass curtain system you can perfectly integrate your indoor space with your outdoor terrace. This way you will be able to enjoy the space throughout the year, whatever the weather. The easy opening mechanism means that In a matter of moments you can transform your space for multiple uses. Year round, you have the choice to keep the space open or closed depending on your needs.
There are many benefits of glass curtains in Manilva y Sabinillas including the elegant design free of vertical frames. Without these distractions there is absolutely no impairment to visibility, providing you with the enjoyment of uninterrupted views as if there was no glass at all.
We stock different types of glass curtains, all of excellent quality, which we install taking into consideration sun exposure and potential weather conditions of your balcony or terrace. These glass curtains provide highly efficient sound insulation and temperature regulation, both in summer and winter, maintaining a very pleasant environment throughout the year.
The use of glass curtains in Manilva and Sabinillas will make your balcony or terrace the most desirable part of your home.

▷ Glass enclosure in Manilva-Sabinillas

Glass Enclosures in Manilva and Sabinillas
These glass enclosures are without doubt the most fashionable solution for your terrace. It is worth noting that they whilst improving your outdoor space they also add genuine value to your home. Adaptability to any existing architecture enables them to integrate beautifully into any space.
Our glass curtains are custom made and can be adapted to your taste and requirements. Forget about the weather outside, with glass curtains in Manilva and Sabinillas you will be free to enjoy your terrace all year round.
If you are interested in glass curtains and enclosures for your balcony or terrace, please don't hesitate to contact us. Our specialists will be delighted to advise you and explain the many advantages of glass curtains in Manilva and Sabinillas without any commitment required.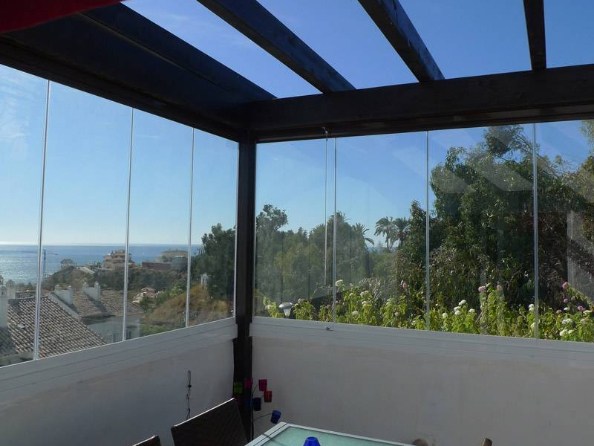 Why choose TecnoPVC for glass curtains in Manilva and Sabinillas?
As previously mentioned, these glass curtains do not have vertical frames, the only visible lines are at the very top and bottom of window panes. In addition to providing a great aesthetic this makes installation very fast and simple. The installation will cause only very minimal disturbance, no major works, dirt or excessive assembly time required.
Enjoy the Advantages of Glass Curtains in Manilva and Sabinillas.
These glass curtains are used to close terraces or balconies, giving you all the advantages of a glazed enclosure (Thermal and acoustic insulation, protection against rain and wind, greater brightness, wider spaces, etc.) At TecnoPVC we install high quality resistant double glazing, the 90º fully opening curtains allow you to open up the space with ease, whenever you want.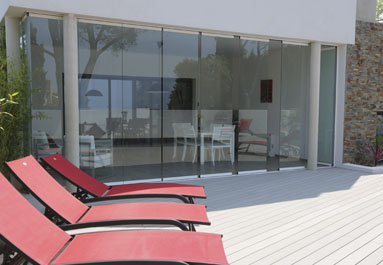 Installation of Glass Curtains in Manilva and Sabinillas
If you are planning to have glass curtains installed in Manilva or Sabinillas, you can count on our highly experienced professionals in the fitting and replacement of glass enclosures.