Manilva – Sabinillas Pergolas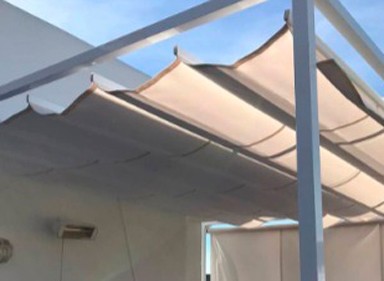 Installation of Pergolas Manilva — Sabinillas
Best manufacturer of Manilva – Sabinillas Pergolas is close to you. TecnoPVC is a manufacturer and supplier of pergolas on the Costa del Sol.
Give your garden, terrace, or attic a touch of Mediterranean joy with our custom-made pergolas. You can achieve different visual effects with a pergola, depending on the design.
Because every garden is different, personalized pergolas
Since there are many ways to use a pergola, we manufacture them according to your wishes. Just tell us what you have in mind, and we'll make it happen.
We consider your wishes, purpose, size, and location of the pergola and design the pergola of your dreams. Of course, you have a large selection of shapes and colors, with different designs and decorations.
Let yourself be inspired by our catalog of pergolas to design the one that best suits your garden.
TecnoPVC stands for first-class products and excellent craft with many designs. This applies to both our pergolas and any of our products. This is why we can guarantee that our pergolas are resistant to weather and sunlight. Even after years, they show no significant signs of aging. The color remains intact even after years of exposure to the sun.
Nuestras pérgolas de aluminio son estables y robustas debido a su sólido diseño y materiales, y a nuestra cualificada mano de obra.
Our aluminum pergolas are stable and robust due to their solid design, materials, and skilled artistry.
The Manilva — Sabinillas pergola that you need
An aluminum pergola is usually the missing element in our house. An aluminum pergola can be a valuable and spectacular ornament that accentuates the beauty of our home.
We are sure we can help you find the best solution according to the space and architecture of your home.
Our aluminum pergolas are the perfect solution. They are decorative while protecting and covering large outdoor areas, if necessary. There are many types of pergolas, but ours are made of durable materials. Their versatility should be noted: they adapt to any space regardless of their width.
We have over 15 years of experience manufacturing pergolas on the Costa del Sol. Our team comprises qualified professionals who will advise you on the most suitable type of pergola to achieve perfect integration with your terrace or garden and meet all your needs.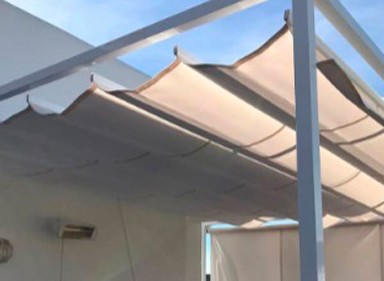 ?Why TecnoPVC, as a company of Pergolas Manilva — Sabinillas?
Numerous Styles and Colors
Enjoy all year round the different types of Pergolas Manilva — Sabinillas
Expand your home with our high-quality pergolas and create an outdoor space protected from the weather.
Roll the awning and enjoy the sun whenever you want. The pergola does not only provides pleasant shade but also protects your terrace, your garden furniture, and yourself from rain and weather. The season of enjoying the garden or our patio in Manilva-Sabinillas will last throughout the year.
Ask for more information now!
Our pergolas with slats have an efficient and innovative design that allows them to be adapted to the climate environment in which they are located. It will provide you with the safeguard you are looking for.
Do you need shade, do you prefer to ventilate the area, or do you need to protect yourself from the rain? The design of these pergolas allows you to do both thanks to the movement of the slats.
These aluminum-based pergolas will give you the protection you need, whatever the weather conditions, and enjoy the outdoor environment.
Bioclimatic pergolas also allow you to adjust thanks to the movement of their slats and, in addition, to adjust the temperature. This translates into energy savings.
Do not hesitate to contact us if you have any questions about our Manilva — Sabinillas Pergolas. We will advise you without obligation and adapt to your requirements.
Pergolas Company in Manilva — Sabinillas
If you have any questions about our products, assembly services, or anything else, we will answer you at +34 952 805 267.
A large Number of Designs
Materials of the best quality