Metal Works Experts in Marbella
TecnoPVC, Metal Works in Marbella, offers more than 20 years of experience in the sector. We are a leading company and we count on professionals qualified in the manufacturing of doors, windows and metal enclosures. We span the whole of Costa del Sol and rely on a large number of clients in the Marbella area.
Our work's professionalism and commitment form the base of our values, basing our products on the quality of material. We work with PVC as well as aluminium due to their benefits with regard to insulation, durability and resistance.
The combination of the two materials offers a maximum guarantee service, perfect for homes and businesses. Aluminium is an environmentally-friendly material, due to low energy used in manufacturing, non-toxicity and recyclability. In regards to its use, aluminium is a metal that can adapt quickly and easily to any type of project.
Using these materials, we obtain unbeatable results. Furthermore, to manufacture them, we count on the leading metal works and PVC brand in Europe, with more than 40 years of experience, Strugal. This brand is the benchmark in metal works and facades for architects and developers.
Insulation and Protection with KÖMMERLING
In TecnoPVC we rely on quality brands, which is why we are KÖMMERLING manufacturers in Costa del Sol. KÖMMERLING systems hide a whole world of possibility: high benefits, guarantees, finishes and colours. Above all, high capacity for thermal and acoustic insulation, and benefits in resistance and security.
TecnoPVC Marbella has become one of the manufacturers of the PVC KÖMMERLING product in Costa del Sol, allowing us to deliver faster, offer better custom solutions with our dedicated and undivided attention, and the best prices to our clients without third parties involved.

Why choose TecnoPVC as experts in metal works in Marbella?
We constantly strive for customer satisfaction and the wellbeing of the end user. We offer the highest-quality products in Marbella.
Resistance and Durability
Metal Works Marbella: TecnoPVC, the best solution.
If you are thinking of changing your windows and doors for more secure ones in Marbella, we can help, just contact us. We count on a wide range of satisfied clients in the area. Our professionals, with wide experience in the metal works sector in Marbella, will be happy to advise you on what you need.
Ask for your cost estimate with no strings attached, we are the best solution for your doors and windows.
Benefits of metal works in Marbella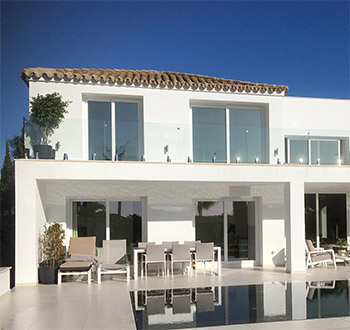 • Zero maintenance
Both aluminium and PVC are materials that require very little maintenance and cleaning. Their non-corrosive qualities make their life cycle very long. They are both highly resistant to harsh weather conditions.
• Respect the environment
Materials which don't require high energy costs for their manufacturing, aren't toxic and are recyclable, which is why in both cases we make good use of resources to benefit the environment.
• Great adaptability
Adapts easily and quickly to any type of project.
• Wide range of finishes
Opening systems in both directions, as well as PVC doors and windows with high-security closing systems with multiple closing points.
• Non-flammable material
• Thermal and acoustic insulation
You can choose the thickness of crystal that you like, offering thermal and acoustic insulation for your home and business. PVC windows can reduce noise by 70%.
• Great quality-price ratio
Trust Experts in metal works in Marbella
Request information and budget without obligation, and start enjoying the best facilities at an excellent quality/price in your home or company.