Metal Works Experts in Estepona
TecnoPVC, Metal Work experts in Estepona with 20 years of experience. Experts in the sale and installation of doors, windows and metal enclosures. We use insulating, durable materials that are also resistant to external agents such as sun and moisture. The use of metal carpentry is becoming more frequent in new constructions and in the reform of old houses and businesses. This happens thanks to the many advantages it presents in respect to other materials. At TecnoPVC, we're nothing short of that, and we specialize in metalwork with aluminium, the best choice for doors and windows in Estepona.
Besides advising on which window or door model is more convenient for each case, we take care of absolutely everything, from its manufacture, through the sale and ending with the installation in record time. Thus, offering a complete service as a metal works in Estepona. For both individuals and companies, we are the best solution for your doors and windows. Request a non-commitment quote, we'll be happy to help you.
To offer a maximum guaranteed service, we combine the two main materials we work with, aluminium and PVC. Using these two materials for the manufacture of doors, windows and enclosures, we're able to achieve excellent finishes. It's the perfect combination for homes and businesses. The multiple possibilities offered by these materials allow us to adapt to any type of installation. For its manufacture we have Strugal, the leading supplier of metalwork and PVC throughout Europe.

Why hire TecnoPVC as a metal works specialists in Estepona?
Having the best materials and products on the market allows us to offer the highest quality windows, doors and metal enclosures in Estepona.
Resistance and Durability
Metal Carpentry in Estepona: Thermal Insulation.
For the manufacture of windows and metal doors we use aluminium as a material. This material is highly conductive, so it transmits cold and heat easily. For homes, this is a serious inconvenience since the opposite is intended. We want to thermally insulate the house to maintain an ideal temperature throughout the year.
What do we do in order to be able to have the advantages of an aluminium installation without this problem affecting us? Very simple. Between the interior and exterior zones of the door or window, we place a PVC solution that ensures that both aluminium faces do not have contact with each other, "thermal bridge breakage". Therefore, the external part cannot lead cold or heat to the internal part. Using this, we manage to eliminate the thermal problem and completely seal both windows and doors.
Find out about the services we offer as a metal works in Estepona with no commitment.
Advantages of our Metal Workshop in Estepona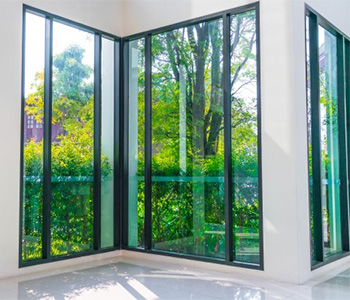 We work mainly with aluminium, a very versatile metal that allows us multiple uses and is a great solution for doors and windows.
• Wide range of finishes:
It's a material that allows us to work and mould it perfectly, thus achieving perfect finishes adapted to the finish we need.
• Does not require maintenance:
It's a material that, due to its composition, has a protective layer that allows it to not have to be cleaned and repels rust. So, it's never necessary to paint it.
• Glass thickness:
It's possible to choose the thickness of the glass, thus allowing us to choose the level of thermal and acoustic insulation according to the needs we have.
• Non-flammable material:
It provides us with more fire safety than other materials such as wood.
• Recyclable Material:
We can give it a second, third or fourth life. Besides that, its manufacturing process is very respectful with the environment.
• Price:
Aluminium windows require a much smaller economic investment than with other materials.
Trust Experts in metal works in Estepona
Request information and budget without obligation, and start enjoying the best facilities at an excellent quality/price in your home or company.