Glaziers Specialists in Marbella
At TecnoPVC, as Marbella glass supplier, we have for you a wide range of products and solutions to improve safety, and acoustically and thermally insulate your home. We have a team of professionals who will be responsible for making your project a reality. Whether it's a new glass installation or to fix any need you have. We install multiple glass-related services in Marbella: PVC, aluminum, acoustic, thermal, security windows, doors, PVC doors, enclosures and glass curtains.
We want to be able to give our customers the best products on the market, which —together with the ability of our experts— makes us a company in which to place your trust for the installation of doors, windows and glass enclosures in Marbella. You already know, if you need to do glassware for your home or business, you have TecnoPVC, glaziers in Marbella with more than 20 years of experience.
Insulation and Protection with TecnoPVC Glass Supplier
In order to guarantee a product in which the level of insulation, resistance and safety is adequate, we only work with the leading companies in the market. These are Kömmerling and Strugal, great experts in windows and doors of maximum guarantee. Betting on a quality product is always a safe value in the long term. The savings that a product made with worse materials can entail, over time, is usually expensive, since it fails to meet expectations, deteriorates more and it'll necessary to change it for a better one

What do we offer as glass manufacturer in Marbella?
By working with the best brands in the market, we can offer the highest quality windows, doors and enclosures in Marbella
Resistance and Durability
Glass Supplier Marbella, commitment and professionalism
Giving a fast, efficient and quality service is our goal. There are many companies that do glass works in Marbella, but not many can offer you the level of professionalism and commitment TecnoPVC has with its customers and projects. We take excellence to the highest level and we're very demanding with ourselves to achieve unbeatable results in record time.
We care about your concerns, answer all your questions, giving both individuals and communities and/or companies technical advice on the different options for their windows, doors and enclosures, as well as what would be the most appropriate and functional installation system for their home or business.

Find out about our glass manufacturer services in Marbella without any obligation
Glass Supplier: Doors, Windows and Enclosures
We have highly-qualified professionals in all types of installations, repairs and enclosures of doors, windows and glass curtains for homes and businesses in Marbella and the surroundings areas.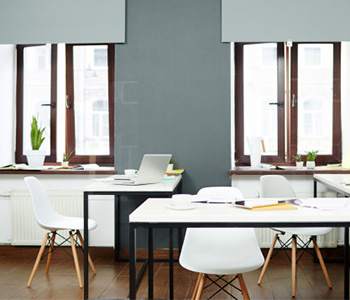 Are you thinking of closing your terrace? With the folding enclosures that TecnoPVC has in Marbella, you can enjoy this space throughout the year. Both for individuals and companies, it is a great option to gain in well-being, tranquility and comfort. In addition, we also have glass curtains that will allow you to enjoy the views while taking refuge from time and noise.