Installation of Pergolas in Marbella
Our company TecnoPVC, aluminum and PVC carpentry in Marbella, is an authority in the manufacture and installation of bespoke pergolas in Marbella, thanks to a long and impeccable record.
We have a qualified and professionally trained team, responsible for providing our clients with the best pergola service in the municipality of Marbella.
Each of our pergolas is a project for us. Our experts collect information related to the customer's request, and based on this information, they proceed to design the ideal solution. In other words, each of our pergolas is designed, manufactured and installed to the customer's request, so we guarantee to completely cover all your needs.
From the initial phase of our Marbella pergola projects, we take into account the different parameters involved such as what the customer wishes, the space that the pergola will occupy, the type of pergola required, and the climatic conditions that predominate in the installation area. All this together with the expertise of our staff, guarantees impeccable work and the total fulfillment of customer expectations.
What advantages you can enjoy with Marbella pergolas
By looking at the entire design, manufacturing and installation process, our products offer unmatched advantages to our clients.
The main objective of each of our projects is to provide an additional space that allows users to enjoy the outdoors, no matter the weather conditions.
And with this goal in mind, our pergolas are created in such a way that they adapt and mimic the environment in which they are installed. All our creations are a unique, elegant, modern, practical and functional product.
Our pergolas in Marbella offer protection against the sun's rays and the rain. In addition, and thanks to the quality of the materials we use in their manufacture, our pergolas are highly resistant to the wind that is common in the area. This set of characteristics ensures complete user protection.
In addition, our pergolas have a long and useful lifespan, as their structures are resistant to corrosion and pollution. As an additional point, it is important to note that each and every one of the Marbella pergolas has a quality guarantee.
?Why Choose us as a Pergolas Company in Marbella?
Assembly and Installation Services
Wide Variety of Styles and Colors
Different types of pergolas to use in Marbella
In order to offer a wide range of products stamped with the Tecno PVC quality seal, we have different types of pergolas.
Aluminum pergolas are made with high strength and quality components. Thanks to the lightweight structure they represent an easy-to-install alternative, which, when combined with the appropriate awnings, offer a shady and functional environment.
This type of pergola adapts easily and does not require much maintenance. They are ideal for terraces, gardens and penthouses.
Awning pergolas are the perfect choice to cover larger spaces. They have great resistance, as they have been created to offer protection from the sun, rain, wind and snow.
They are suitable for public and private spaces.
▷ Garden or Terrace Pergolas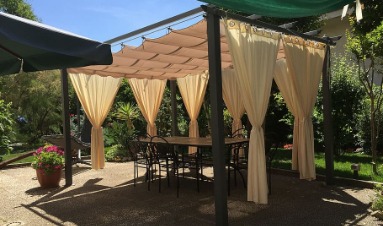 These are the most commonly used kind of pergola, thanks to their nature. Garden or terrace pergolas represent the essence of enjoying outdoor spaces.
These models have a classic style and can be manufactured with a wide variety of materials; wood and aluminum are the most sought after for their easy integration with the environment.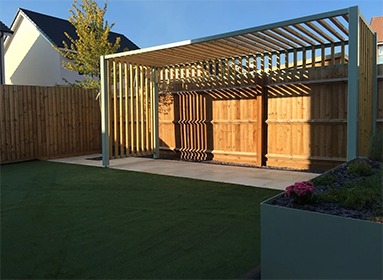 The slated pergolas feature an innovative design that allows them to adapt and provide shelter under any weather conditions.
These pergolas have the unusual functionality of moving their slats to provide shade or ventilation, according to the user's wishes. They can also close tightly to protect from rain.

The bioclimatic pergolas are built entirely of aluminum. They are an ideal refuge from any weather condition, allowing the enjoyment of the outdoors at any time.
This type of Marbella pergola, can adjust the temperature naturally by mobilising its slats. In this way they contribute to energy savings and protect people from inclement weather.
We invite you to contact our specialist team in Pergolas, and we will advise you without any commitment on which one best suits your outdoor space.
Pergolas Company in Marbella