Glass Curtains in Marbella

✔Glass Curtains Company in Marbella
We are a company of glass curtains in Marbella of reference for a wide range of individuals, companies and neighboring communities. We provide the aesthetic results and the acoustic and thermal insulation properties you are looking for when installing glass curtains or glass enclosures.
There is no doubt that glass curtains in Marbella are the best option if we want to enjoy the outdoors in a protected area with excellent views. With a glass enclosure, you can enjoy your terrace or balcony at any time of the year and throughout the day.
At TecnoPVC, we offer a personalized service of installation and assembly of glass curtains in Marbella; as we are manufacturers, we adapt to your needs and those of your home, community or company. If you are looking for professionals in glass curtains with a qualified team and extensive experience in the treatment and installation of glass curtains, we are your best option.
Ask for information on everything we offer without any obligation, you will have at your fingertips the maximum level of quality for a very economical and competitive price.

▷Glass enclosure in Marbella
The glass curtain is a panoramic glass enclosure without vertical profiling. It is a highly recommended system to take advantage of and give value to open spaces in any type of housing, community, or company.
We can say this is a system in wide use today for its versatility in manufacturing, insulation properties and quality of materials used. All this in addition to providing more welcoming and comfortable spaces without sacrificing the design, aesthetics, and functionality of the place.
For this reason, at TecnoPVC we offer glass curtains in Marbella made with high-quality materials, from number-one companies in the market. With us, you will have glass enclosures in Marbella with the best properties in insulation, both thermal and acoustic, as well as security and resistance.
Ask for information without any obligation, we manufacture glass enclosures with sheets opening of up to 90 º. Curtains totally unfolded or closed.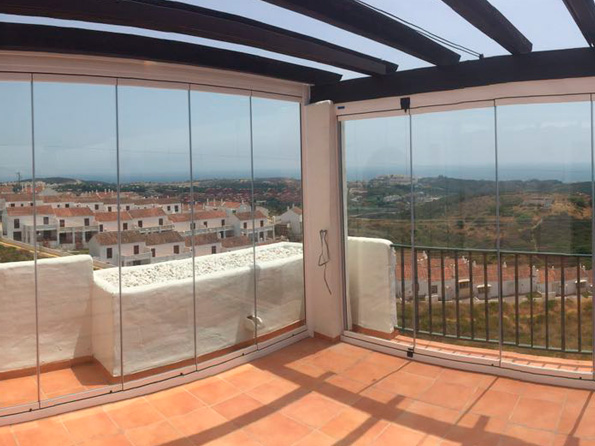 ⭐Why choose us for Glass Curtains in Marbella?
When installing glass curtains in Marbella, you will obtain great benefits such as more comfort and tranquility, because as it is a glass enclosure, the thermal and acoustic insulation is remarkable.
?Glass Curtains Experts in Marbella
In TecnoPVC, we are the experts in glass curtains in Marbella. We perform the installation and assembly of the glass enclosure in a clean, thorough and very professional way. Every detail matters, especially when you want to achieve the best final result and aesthetics.
We know how important it is to choose quality glass enclosures, so we work with raw material from a leading company in the sector: Guardian Sun Intelligent Crystals.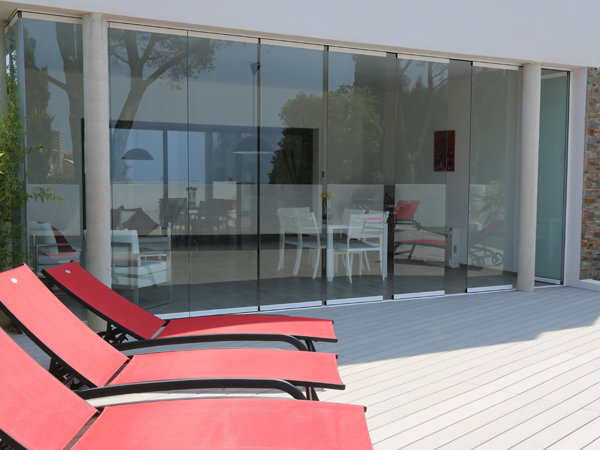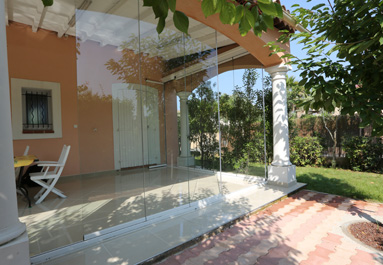 Trust in us for the installation of your Glass Enclosure System in Marbella
We offer personalized services for the election of glass curtains, from the hand of a professional team with great experience. We guarantee the best aesthetic result.