✔Awnings installation in Estepona
Do you want to install an awning on your home or business? At TecnoPVC we have several awnings' colors and models in Estepona. You will be able to choose the one that best adapts to the aesthetics and needs of your place.
Awnings are a very important accessory for both homes and businesses. They protect the place from direct contact with the sun, provide shade, and underneath them, the sensation of freshness is greater, which gives both the tenants of the house and the consumers of the premises greater comfort. Moreover, thanks to the systems that are available nowadays, you will be able to close the awning in a much more comfortable and practical way.
Another interesting feature of this accessory is that it improves the aesthetics of the place, so much so that, in the majority of occasions, the color and model combine perfectly with the façade, adding a touch of style and originality.
From TecnoPVC, we offer a service of awnings installation in Estepona by the hand of experts in all the models and systems we have available. If you are thinking of installing an awning, ask for information without any obligation. Our experience and the quality of our awnings makes us one of the best options on the Costa del Sol area: Estepona, Marbella, Sotogrande, Manilva, Fuengirola, and La Línea.
We offer the installation of retractable awnings in Estepona by a team with more than 20 years of experience. We offer you a system that adapts perfectly to any house, flat or attic.
Do you want to install awnings to avoid the direct action of the sun when you enjoy the outdoor area of your home? Ask for information without any obligation and we will make a budget tailored to the needs of your space.
If you choose us to install your awnings in Estepona, we assure you that you will have the best quality-price ratio, and you will have at your disposal a specialized company with broad experience.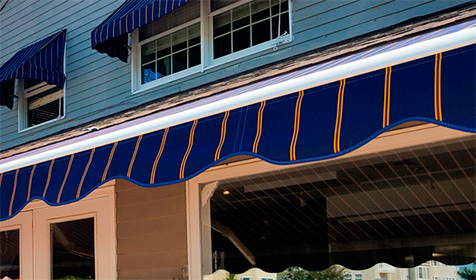 Automatic awnings are the best option when we want to make a renovation for something more modern and comfortable as well as practical. At TecnoPVC, we install automatic awnings in Marbella, Estepona, and surrounding cities. Thanks to the quality of our products and the professionalism of our team, every day more and more people hire our services to install automatic awnings in their premises and homes.
And without a doubt, what makes this model different is its possibility of automation. You will forget how to manually open and close an awning.
With us, you will have everything you need from an awning company in Estepona. In addition, we have a great variety of colors, styles, and designs. Whatever awning you are looking for, we have it.
Request Information about our Awnings and Systems
Awnings Company in Estepona
We are an awnings company with more than 20 years of experience in the installation and assembly of awnings sector, which has allowed us to specialise and guarantee the best results in each of the projects and works carried out. We work with quality materials, the latest technology and highly qualified professionals.
The chest awning model is becoming more and more fashionable. It has a more modern touch and its aesthetics are impeccable, and once it is unfolded, it gets totally steady and tense.
It is a model that is perfect for balconies and attics floors, as they are areas where the wind breaks, and as this awning has great strength, it's ideal for it.
If you are thinking of placing awnings, we will be happy to advise you to choose the perfect model for your home or local.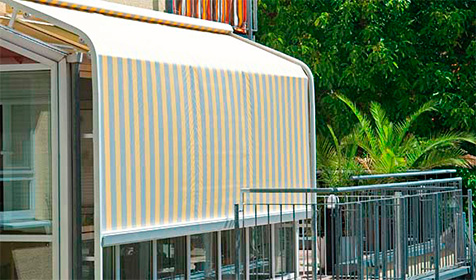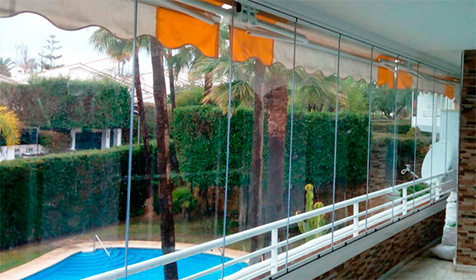 And what can we say about the estore model? These awnings are thought and designed for areas with railings. They have a folding arm that will be their point of support. And you will have to 'play' with them to get the shade and comfort you want in that space.
We have a wide variety of different colors for this model and all the aforementioned ones.
With our awning company in Estepona, you will find the model, design, style, and color you are looking for. All the features and properties you want to have, we have it at TecnoPVC.
?Why choose us as an Awning Company in Estepona?
We offer you a service of assembly and installation of awnings in Estepona by a professional and highly qualified team with more than 20 years of experience in the sector. We will always take care of every detail of the process in order to achieve the best aesthetic result after installation.
Assembly and Installation Services
Wide Variety of Styles and Colors
Awnings with Motorization System
Let yourself be advised by more than 20 years of experience…
We have models of awnings made with the best materials of the market. At TecnoPVC we work with prestigious brands to offer our customers the highest quality levels at the best price. And we offer our services along the entire the Costa del Sol: Fuengirola, sotogrande, Gibraltar, La Línea, Manilva, Benalmádena, Mijas, Estepona and Marbella