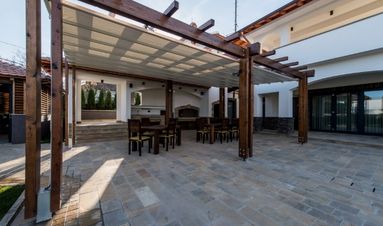 Installation of Pergolas in Fuengirola
If you are looking for Fuengirola Pergolas for your home, you are in the right place. TecnoPVC, specialist in the manufacture and installation of pergolas.
We are manufacturers and suppliers of PVC windows and doors for homes and businesses for the entire Costa del Sol in southern Spain.
We are backed by more than 20 years of experience and a solid reputation as experts that allow us to advise you conveniently on which product or system will best meet your tastes and needs.
Let yourself be inspired by professionals
Choosing your windows, doors, or pergolas is choosing a shape, a design, a color, a way of opening, a handle, a molding, etc. The style you want to give your home becomes evident in these details.
Thanks to our extensive experience and good work, we will advise you on this choice, we give you examples of projects that we have already carried out; they will help you find inspiration and make your project a reality.
What are your needs? What are your wishes? Let yourself be inspired by our extensive catalog of Pergolas and their designs. Do not hesitate any longer and contact us at +34 952 805 267, and we will answer all your questions or give you a free quote.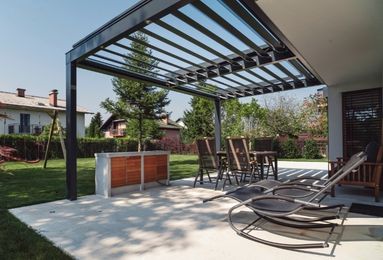 Assembly and Installation Service
Great Price-Quality Ratio
Wide Variety of Styles and Colors
At Tecnopvc, we recommend that you let yourself be tempted by the performance of PVC or by the elegance of aluminum. This type of pergola is made of strong, quality, and lightweight materials. They are a practical and quick installation option. They offer a shaded, functional, and light space combined with awnings.
Las pérgolas de aluminio se adaptan al espacio del cliente, y requieren un mantenimiento mínimo. Estas pueden instalarse en jardines, terrazas y áticos.
Aluminum pergolas adapt to the customer's space and require minimal maintenance. These can be installed in gardens, terraces, and penthouses.
It is a pergola equipped with an awning ideal for terraces and outdoor spaces. They require ample space for an excellent result.
Además su toldo será capaz de hacer frente al viento, la lluvia, o el sol sin sufrir daños. Estéticamente, pueden ser personalizadas para adaptarse a su negocio u hogar.
In addition, your awning will be able to cope with wind, rain, or sun without damage. Aesthetically, they can be customized to fit your business or home.
▷ Pergolas for Garden or Terrace
Do you want originality? Discover our collections of Fuengirola Pergolas with colors inspired by nature to create bright atmospheres throughout the seasons and blend delicately into the garden or terrace.
Made to withstand the temperatures of outdoor environments and offer your stay the best enjoyment.
Thanks to its adjustable waterproof slats, you can regulate the amount of sun during the day, protect yourself from a sudden downpour, naturally ventilate your terrace in summer and enjoy whole light in winter!
Elegant and highly designed, our pergolas blend seamlessly with all architectural styles; and beautify your home or business with a modern, contemporary, or classic style.
Good living space as an extension of your home or business, our custom-made pergolas are available in many configurations and a wide range of colors. All this is controlled by a remote control that will allow you to modify the position of the slats and adapt to the climate you choose.
▷ Bioclimatic Aluminium Pergolas
Our pergolas have an elegant and optimized design that has many advantages:
Numerous configurations (combinations with different glass types, closures, and openings) and options (climate management, closures, and lighting)
Variety of accessories such as glass curtains, awnings, mosquito nets, garage doors, and security shutters.
Perfect air and water tightness.
Wind and weather resistance
Are you looking for a new outdoor living space to enjoy your terrace and garden in all seasons? Discover the bioclimatic aluminum pergolas from Tecnopvc. They combine design, comfort, and robustness.
Pergolas Company in Fuengirola