Glass Curtains in Fuengirola
✔Company of Glass Curtains without profiles Fuengirola
In TecnoPVC we have a long history as professionals and experts in glass enclosures and curtains in Fuengirola. We offer the best alternative to those who seek to close their balconies and terraces. Glass curtains without profiles, that is, an enclosure that can be deployed in the whole.
We are a company that knows the most innovative techniques and methods for the installation and assembly of glass curtains in Fuengirola and surrounding cities perfectly. What makes it possible for us to provide professional, efficient and fast installation services.
Our primary objective, to provide our customers with the expected final result. An excellent result in aesthetics and superior performance in insulation, functionality, and resistance.
Without a doubt, placing glass curtains on terraces and balconies in Fuengirola is an excellent option. Since it allows us to enjoy that space on days when the sun is not the protagonist and protects us from the air and the cold outside.
As a company of terrace enclosures in Fuengirola, we perform the installation and assembly of glass curtains with opening systems without profiles. What allows us to maximize the space. If you are thinking of closing the balcony or terrace of your home, business, company or apartment, get in touch with us without obligation.

▷Glass Enclosures in Fuengirola
The glass enclosures in Fuengirola are increasingly chosen by businesses and individuals. In addition to greater use of space provide visitors with an environment with great acoustic and thermal insulation. In other words, they protect from the temperature of the outside and isolate the noise in a high percentage.
If you are thinking of having terraces and balconies with a system of glass curtains in Fuengirola, we are the company you are looking for.
Our extensive knowledge of glass curtains makes us a reference company for a broad portfolio of professionals and individuals in the area.
Another factor that distinguishes us from other companies is that we make assemblies and installation of glass ceilings, that is, complete and customized enclosures according to the needs of your terrace, balcony or patio.
⊛Why choose Crystal Curtains in Fuengirola?
If you decide to install glass curtains in Fuengirola, you can enjoy your terrace or balcony every day of the year. Also, thanks to the double glazing you will have better thermal and acoustic insulation.
?The best system of Glass Curtains in Fuengirola
We offer our customers the best system of glass curtains. We work with prestigious brands that provide us with first quality material.
With us, placing glass curtains in Fuengirola is the best investment. You will have a double glazing and opening system of 90º at a very economical price.
We are manufacturers, which allows us to offer all our customers what they want in glass curtains. If you are looking for a company that provides a professional and personalized service according to the needs of your home, local and apartment, contact us without obligation.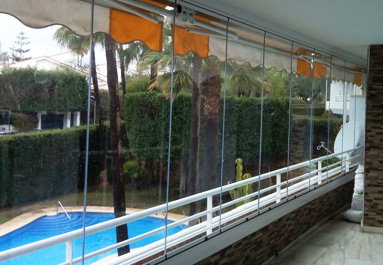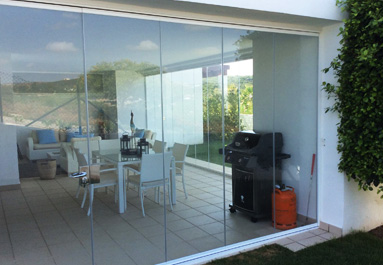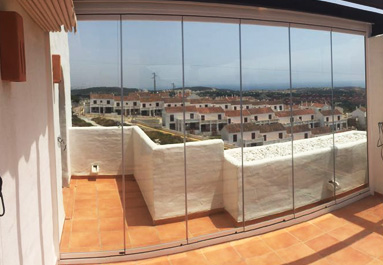 Installation and assembly of glass curtains on terraces and balconies
We have a human team specialized in the assembly and installation of glass curtains for patios and balconies. Ask for a budget without commitment. Great aesthetics, insulation, and resistance.