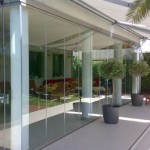 Glass enclosure system without profiles, the best solution for your home or business. Enjoy your porch or terrace all year round, at the same time you increase the living space in your home
Transparency at its most beautiful. Folding systems that differentiate each house and make them more attractive. we can adapt Guardian Sun glass.
please for more information contact our office.