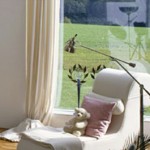 we used all types of glass. We applied to our clients guardian sun and laminated. extra security.
The Guardian Sun glass helps save energy at home for its combination of solar control and thermal insulation in a single layer:
Reduced to reflect the direct short wave infra red solar radiation. This increases the heat in our home without reducing comfort even when there is direct sunlight surface. And it has a direct effect on the air conditioning bill.